GhostTownsUSA tour group visiting the Gold Hill gold mine.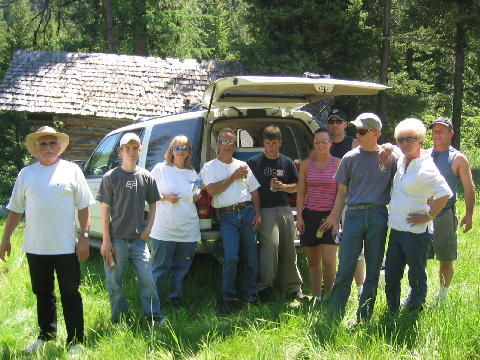 Ghost town tour group from Seattle, Washington enjoying a day of exploring historic ghost towns and mining camps in Okanogan County.
"We were recently in Old Molson and accidentally found one of your geo relic treasure caches. I am not sure if it was yours or not. The papers said the name was Boom Towns & Relic Hunters. We found it under a corner of the outside stairs of the bank. It was a good surprise for the kids and us. We had driven over from Seattle to check out the ghost town of Old Molson and a few other towns in the area. We were actually using one of your books as a reference guide. Anyhow - thanks for helping us have a great vacation and introducing our kids to the joys of ghost towning (kids are 3 and 6)."
Karen
"My favorite things were actually experiencing the ghost towns and historical sites that we toured. It is one thing to see history from a vehicle, but to experience it hands-on you need to get out and walk in it such as our tour group and adventure guide did."
Margaret Koch
Oak Harbor Senior Center
"Terri and I were quite pleased with the tour. We are thinking about another."
Jim & Terri
"I just wanted to say thank you so much for the tour,we both enjoyed very much, I sure learned about the history that I didn't know about."
Teresa Backman
"We had a great time Jerry - thank you for your old west hospitality. Those buildings really did feel haunted!"
Jim & Robyn, Shoreline, WA
"I wish I would have hit the motherload metal detecting, but maybe I'll buy my own and have better luck. Thanks for the wonderful tour. The countryside was amazing."
Jim, Bellingham, WA
"Well worth the time and money, thanks for the photographs. I'll be back next year."
Lynda, Renton, WA